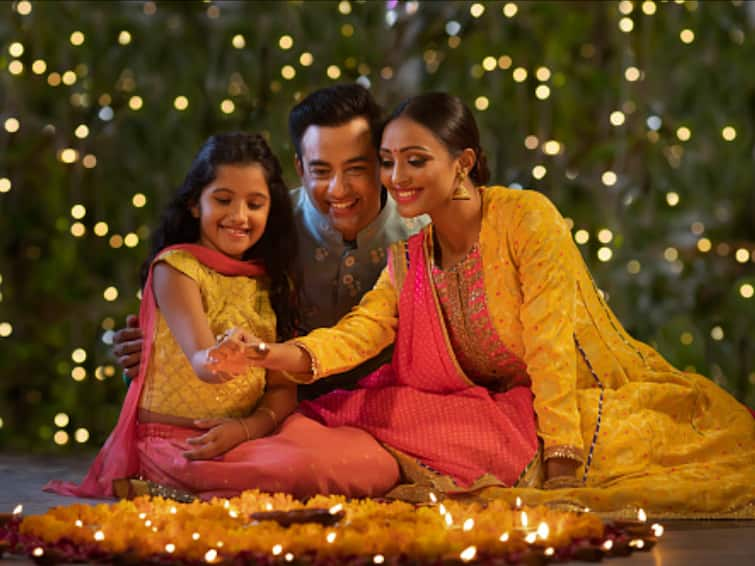 Fashion tips to brighten up your Diwali wardrobe
Diwali, the festival of lights, is not only a celebration of tradition but also an opportunity to showcase your impeccable style. When it comes to fashion during this festive season, the options are vast and exciting. Elevate your Diwali wardrobe with these fashionable options, and reflect the spirit of joy and celebration in your attire.
Fashion Tips for Diwali Parties
Pinky Rai, Team Lead-Design at TIGC Suggested tips to help you navigate the world of Diwali costumes.
Indo-Western Fusion: Modern Yet Ethnic
For those who want a perfect blend of tradition and contemporary flair, Indo-Western fusion is the way to go.

men can make stylish pair

Closed gala jacket with fitted trousers or denim

To get a modern yet ethnic look.

Experiment with different fabrics and prints to make a bold statement and stand out.

women can wear easily

Long jacket with palazzo pants with top or dhoti pants with crop tee.

,

try pairing

Classic saree with trendy crop top.
Traditional Elegance:
Kurta-Pajama Set:

When it comes to ethnic wear, the first image that often comes to mind is that of the classic kurta. Especially during the festive season, kurta-pajama set is one of the most trending and sought-after choices of men. Step into the festivities with the timeless charm of kurta-pajama set. Choose vibrant colors like orange, wine red, royal blue, teal or mustard adorned with subtle prints and embroideries for the perfect festive touch. Choose rich clothes that match the spirit of Diwali and reflect your traditional style.

Sharara Suit:

Diwali attire trends for women include the popular choice of suits in vibrant colors and intricate patterns with embroidery to create a breathtaking and adorable look for the occasion.
Comfortable and Stylish:
Pathani Suit:

Embrace comfort and style with the classic Pathani suit. With a long kurta and straight-cut trousers, this outfit exudes sophistication. Choose earthy colors or pastel colors to capture the essence of the festival. Complete your look with Kolhapuri slippers and a contrasting scarf for that extra touch of style.

Anarkali suit

Famous for their long, flowing frock-style tops, paired with comfortable churidar pants or leggings, often decorated with intricate embroidery, providing an elegant and beautiful option for various festive occasions. Is.
Young Modernism:
Asymmetrical Kurta and Trouser:

Put a youthful and modern twist to the traditional kurta-pajama with an asymmetric trail-cut kurta with contrasting trousers. This unique blend of Indian traditions and modern beauty will turn heads and melt hearts. Elevate your Diwali style with this refreshing ethnic wear.

Gown:

Dhoti gowns offer a modern twist on the traditional attire, pairing dhoti pants with a stylish tunic or gown. For a glamorous look on Diwali, consider choosing cape gowns with lace or sheer fabrics, pastel colors and beautiful accessories like pearls and heels.

Short Kurta with Chinos or Jeans:

Prioritize comfort without compromising on style by choosing a short kurta with chinos or dark colored jeans. Perfect for those who appreciate spontaneity and elegance, this combination is sure to make you move with ease while exuding a sophisticated Diwali charm.

Ready to wear sarees for Diwali with ease:

This growing Diwali trend offers a comfortable and convenient option to celebrate the festival in style. These pre-stitched sarees require minimal effort and come in a variety of designs, allowing you to easily enjoy the festivities while radiating beauty.

Casual Diwali Chic: Printed Shirt with Pant:

For a comfortable yet stylish Diwali look, consider the casual allure of a printed shirt with pants. This alternative to the traditional kurta is perfect for those who want to deviate from the norm while radiating a vibrant and joyful atmosphere. Make a statement with this unconventional option that's a seamless blend of comfort and style.

Long Kurtas with Skirts:

Embrace boho chic style by pairing a long kurta with a flowing skirt, creating an effortlessly beautiful and playful Diwali ensemble. Choose kurtas adorned with delicate embroidery or mirror work and pair them with skirts in contrasting colors or patterns for a fashionable look.

mix and match:

Experiment with combinations. Combine different traditional elements to create a unique and stylish look.

Layering:

Add layers for a more voluminous look. A well-fitted Nehru jacket or a textured blazer can add charm to your outfit.

Shoes:

Pair your traditional attire with ethnic footwear like juttis, mojaris or ethnic sandals. These add an extra element of style to your overall look.

stuff:

Consider adding traditional accessories like a pocket square, brooch, beautiful chain or statement watch. Enhance your Diwali outfit with statement jewellery. Women can opt for big size earrings, chandelier earrings, layered necklaces.

Thick bracelets, or adding a stylish belt to your lehenga.
Festive Fever 2023: Timepieces complement ethnic wear beautifully
in the world of outfit, where tradition and contemporary style meet, is a fascinating trend that has gained momentum. According to Viral Rajan, Distinguished Director, Time Avenue, "This trend celebrates the exquisite fusion of traditional ethnic attire with modern timepieces. As our appreciation for the rich tapestry of global cultures grows, a discerning customer is "Looking for watches that feature intricate patterns, vibrant colors, and ethnic motifs that seamlessly harmonize with their traditional attire from around the world."
"Watches have evolved not only as functional timekeepers; they have become indispensable outfit Accessories for those who appreciate the timeless charm of tradition as well as contemporary allure. Be it a sleek and minimalistic timepiece that beautifully adorns a classic saree or an ornate, vibrant timepiece that enhances the grandeur of Indian attire, these watches offer the perfect blend of heritage and style," he said.
How to add sparkle to your festive attire
"Adding sparkle to your festive attire is an art that requires the right blend of tradition and modernity," said Kabir Mehra, co-founder of Herringbone and Needle in Pangolin and Suigarh.
To truly shine during this auspicious occasion, here is a detailed guide inspired by the modern man's perspective to add the much-needed sparkle to your Diwali ensemble:
Embrace Embellishments: The key to a remarkable Diwali look is to embrace embellishments. Traditional attire does not have to be worldly. Think kurtas with elegant embellishments or fun embroidered details. These stylish additions not only enhance your outfit but also give it a modern twist.
Dive into the dark colors: While bright colors often dominate Diwali fashion, don't hesitate to explore darker shades. A charcoal or midnight blue kurta, for example, can serve as an excellent canvas for glitter designs or sequined patterns. The contrast between the dark fabric and the shimmering accents will make an eye-catching statement.
Layer up with: Introducing a bandi (waistcoat) can transform your festive attire. Experiment with wearing it open for a casual yet sophisticated look. Choose a velvet or silk bandana with embroidery or sequins to add a subtle sparkle.
Play with textures: Texture can add depth and dimension to your outfit. Consider materials like brocade or jacquard for your kurta set.
Pay attention to footwear: Don't ignore your footwear this Diwali. Juttis or mojaris with subtle metallic accents or sequined patterns can add a festive touch to your outfit!
Small things matter: It's often the smallest details that make a significant impact. Add pop of color and sparkle with a well-chosen pocket square when wearing a Nehru jacket or blazer.
Prioritize Fit: No matter what you wear, make sure it fits perfectly. A well-fitting garment says a lot about your style. Consider brands that offer custom fits for that impeccable look.
Celebrating Diwali in style: Versatility of kaftan for all body types
Prakriti Gupta Rao, who is the co-founder of Kaftan Company, listed the following:
beauty of kaftan
Kaftans are known for their loose, flowing silhouette that drapes beautifully over the body, making them an attractive choice for all body types. Their comfortable fit and breathability are especially attractive during Diwali, which often involves delicious food and sweets. Whether you have an hourglass figure, an apple shape, a pear shape or any other body type, you can find a kaftan to make you feel confident and beautiful.
Styling for various Diwali occasions
One of the reasons why kaftans are so beloved is their adaptability to different settings and occasions. Here's how you can style them for different Diwali celebrations.
family gatherings

: For intimate family gatherings, choose a simple, elegant kaftan with traditional Indian motifs or embroidery. A classic silk or chiffon kaftan in rich, festive colors like deep red, royal blue, or emerald green can be a great choice. Pair it with traditional jhumka earrings and bangles for a traditional look.

live parties

: To attend festive Diwali parties, you can go with a more glamorous kaftan. sequins, metallic accents and vibrant prints can make your outfit stand out. You can choose a kaftan with a deep neckline for a touch of contemporary flair. Accessorize with statement jewelery like chandelier earrings, statement necklace and clutch bag to complete the party look.

Pooja and Ceremony

: For the religious aspect of Diwali, a simpler, more modest kaftan with lighter colors or pastels may be appropriate. Focus on the grandeur and beauty of the kaftan and pair it with traditional, light jewelery like pearl earrings and a subtle maang tikka. This simple look is perfect for ceremonies and rituals involving lamp lighting.
Tips on Accessorizing
Accessories play a vital role in elevating your Diwali kaftan ensemble. Here are some tips to help you decorate beautifully.
Statement Jewellery:

To add a touch of glamour, choose statement jewelery that matches the style of the kaftan. Bold necklaces, oversized earrings and intricate bracelets can add charm to your outfit.

Shoes:

Depending on the occasion, you can wear traditional juttis or beautiful heels. If you want to balance traditional and modern, metallic or beaded sandals are an excellent choice.

Clutch

: A matching or contrasting clutch can complete your look. Choose an outfit with traditional embroidery or embellishments to maintain the festive atmosphere.

style hair

: Experiment with different hairstyles, from elegant updos to loose waves, to find the look that best matches your kaftan.

to complete

: Keep your makeup consistent with the overall look. Smokey eyes, bold lipstick and bright highlights can add glamour, while a natural and glowing makeup look is perfect for a more traditional appearance.
Kaftans come in a variety of fabrics, from lightweight cotton for daytime celebrations to luxurious silk for evening parties. They also offer different sleeve lengths from long to short, so you can choose the one that suits your style and comfort level.
Furthermore, Kongkana Narzary from Snitch said, "Capture the essence of this festive occasion by incorporating prints into your outfit. You can choose from a range of options ranging from classic to unique prints. Be it a floral shirt or a vibrant sweatshirt, a well-chosen print can make an extraordinary statement while maintaining the festive spirit. So, this Diwali, add some prints to your outfit and make a fashion statement that reflects the true essence of the festival."
"Feel free to mix and match different elements to create a unique and personalized look. For example, you can pair a patterned shirt with solid chinos for a stylish look. Experiment with a variety of textures. It is important to consider that one can achieve a unique Western appearance while incorporating traditional elements. "Choose from a collection of stylish clothing options that combine the comfort and tone of Western attire with the unique beauty of Indian ethnic wear," he said.