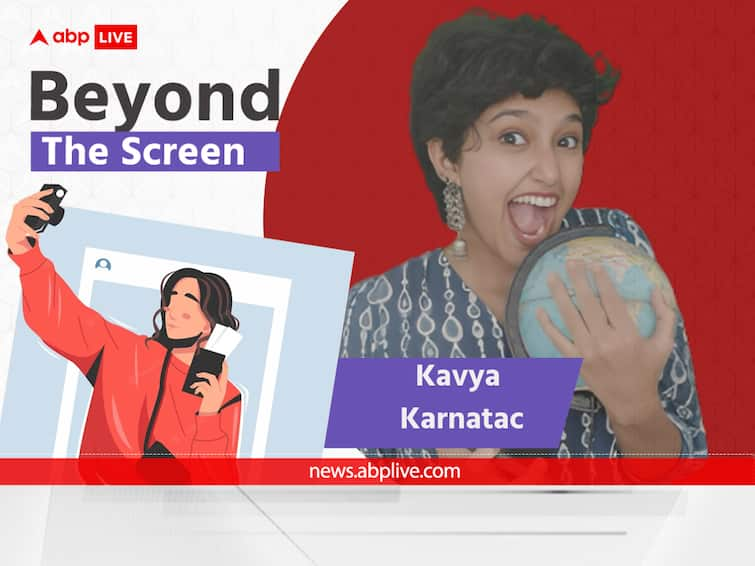 Geography educational content creator Kavya Karnataka unveils the beauty of India
Kavya Karnataka is a content creator who aims to reshape education through captivating content. She is India's fastest rising educational creator having achieved 1 million followers on Instagram in just 10 months. He left his cushy media job to create a legacy education platform His love for geography and content creation quickly became the center of attention and his posts averaged 1 million views and earned praise from government officials and industry.
Born in Nainital, Uttarakhand, Kavya's journey is a whirlwind of passion and innovation. Her captivating content is a myth buster and also throws light on lesser known facts about India and the world.
in conversation with abp live Over email, Kavya shares what made her fall in love with geography, what interesting facts she uncovered and her favorite myths that she debunks on social media platforms.
Here are some excerpts from the interview:
What made you fall in love with geography?
When I started creating my content, I actually started with geopolitics because that's what every content creator in the information space was getting into. But I soon realized that, to understand geopolitics, I had to first understand geography. As soon as I started making videos on it, I realized that it is such a beautiful interdisciplinary topic, which is not just about mountains and rivers, as many of us believe, but also about our food, our language and is also. The professions that are most popular in our states. Almost everything comes from geography, and to understand India, I really think you need to understand geography. This was the first reason I was interested in this subject.
Myth busting can be a fascinating endeavor. Can you share an example of a geography myth that you found particularly interesting to debunk?
Yes, I think myth-busting is one of the best categories we have especially under geography. I'll talk about three myths we bust on our page. Generally people think that Rajasthan is a desert which is just filled with sand. But it is not true; Rajasthan is one of the most diverse states of India. It has a district called the City of 100 Islands. Udaipur is the city of lakes in it. It is the largest producer of wool, milk, millet, garlic, mustard, lead and zinc. It has the second largest man-made lake in Asia, 41 rivers and the oldest mountain range in India. So basically, even though popular culture has led us to believe that Rajasthan is just a desert, it's actually not.


The other myth that I'm definitely very proud to break is that North Indians don't speak only Hindi. We are made to believe that Hindi is the only language of North Indians. But it is not true. In fact, there are 22 languages ​​that are recognized by our Constitution. Rajasthan has Rajasthani and many other dialects. Gujarati in Gujarat, many other dialects, Punjabi in Punjab and many other dialects. There are many other dialects in Bihar.
Another myth that we have talked about on our page is that India's Northeast is not just a forest. When we think of the Northeast, we think of beautiful lush green landscapes, right? But that's not all in the north-east of India. Asia's cleanest village is in the north-eastern region; It has Asia's first green village; It is the birthplace of India's oil industry; It contains the world's largest river island; And it also has a market, which is run only by women, there are more than 200 tribes and what's more, there are more than 200 languages.
What has been the most surprising or eye-opening geographical fact or myth in your content creation journey?
There are many interesting, eye-opening geographical facts that I have found.
First of all, there is a house in India that is actually half in Maharashtra and half in Telangana; It is on the border of both the states and in a district called Chandrapur.

The other fun fact that I like to tell people is that there is a village in India where the citizens living there have citizenship of two different countries, Myanmar and India; This is a village named Longwa.

Third, there was once a part of India, that is, a circle of India, which was inside a circle of Bangladesh and that circle was inside a circle of India. So if you walk 100 meters in a straight line, you will change countries eight times. These small pieces of the country which are inside another country are called conclaves and this conclave was the third conclave.

And the last fact is that we know that Puducherry is a union territory, but what we don't know is that parts of Puducherry exist in 3 different states: some in Kerala, some in Andhra Pradesh and some in Tamil Nadu.
Can you share some myths related to Delhi NCR region?
I think most people believe that Delhi is the capital of India, whereas it is not, New Delhi is the capital of India. When you add 10 more districts to New Delhi, then Delhi becomes what is called the National Capital Region and then when you add parts of 3 different states to Delhi, then NCR is formed. NCR includes the areas of UP, Rajasthan and Haryana.
You also do paid partnerships on your page, how do you integrate geography into content like that?
This is the beauty of a subject like geography. It is so interdisciplinary that everything we are, literally, that is part of our lives every day, can be linked to geography. For example, the food we eat is highly linked to geography, and can be linked to brands like Swiggy. The clothes we are wearing are highly linked to the area we are part of, and this can be linked to any clothing brand. The businesses that are thriving in our state are because of geography, and we can connect this to any brand that is operating in different segments of business. So, essentially, the interdisciplinary nature of this theme allows me to seamlessly integrate with any brand.
Tell us more about your new series on YouTube. Why did you choose NCERT and what results are you hoping to achieve through this series.
Our new series on YouTube is called NCERT Made Fun, where we are trying to release a short video every day that focuses on a topic covered in our NCERT. What I'm trying to do with that series is mainly to make my base very strong. As creators, we typically consider many different topics, but we usually avoid the basics. I feel that as a producer, it is my responsibility to make them very strong.
Second, I feel that I have the ability to tell stories in a much more interesting and interactive way than our school books. So I want to use NCERT and make it more fun by using its interactive capabilities. Third, I want to create content that's evergreen, right? Any student who is currently studying NCERT will be able to benefit from this material. And any teacher who is currently teaching through NCERT in their classes will be able to benefit from this material. These are some of the reasons why I chose NCERT.