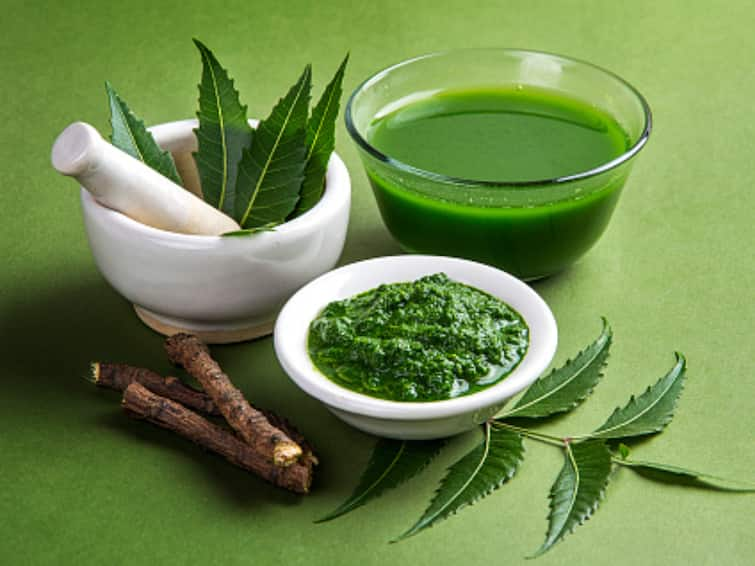 Herbs that men can include in their daily diet to get benefits
In today's fast-paced world, fitness is not just a goal, it is an essential component of a healthy lifestyle. While traditional fitness regimes focus on vigorous workouts and strict diet plans, India's ancient medical system, Ayurveda, offers a more holistic and sustainable approach to men's fitness. The time-tested principles of Ayurveda can not only enhance physical fitness but also promote mental and emotional well-being.
Role of Ayurveda in improving men's health
Dr. Manoj Kuteri, Medical Director and CEO of Atmantan Wellness Center said, "Ayurveda offers a holistic approach to men's health, addressing the mental, emotional and physical elements to achieve balance and well-being. This holistic approach to health and wellness emphasizes balancing the mind, body, and spirit, to enhance general well-being. To help flush out toxins from the body and restore balance, Ayurveda uses purification processes called Panchakarma. Men can achieve better general health and well-being with these habits."
"Vata, Pitta, and Kapha are the three doshas that Ayurveda uses to classify people according to their specific structure. The predominance of doshas can vary in men; knowing one's dosha can lead to informed diet and lifestyle choices. Ayurveda emphasizes the importance of nutrition in preserving health. A diet that suits their dosha and takes care of their unique health issues can be beneficial for men. For example, Vata A Pradha Purusha may benefit from eating warm, filling dishes, while a Pitta Pradha person should eat cool, soothing foods. Ayurveda is generally against eating processed or highly processed foods and recommends eating fresh, natural foods. Side advises to include a range of healthy grains, lean meats, fruits and vegetables in your diet," he said.
Ingredients That Can Increase Men's Fitness:
Talking about ingredients that can enhance men's fitness, Dr. Kriti Soni, who heads R&D at Kapiva, recommended the following:
Ashwagandha (Withania somnifera) – Known to help increase muscle mass, reduce cortisol levels, and improve strength.
Shilajit – A sticky substance found primarily in Himalayan rocks, believed to promote vitality and stamina.
Gokshura (Tribulus Terrestris) – Often used for bodybuilding, it is believed to improve libido and overall physical performance.
Safed Musli (Chlorophytum borivilianum) – Traditionally used to enhance sexual performance and increase energy levels.
Mucuna Pruriens – It contains L-dopa, which may affect dopamine levels, support growth hormone functions and muscle development.
Bala (Sida cordifolia) – It is often recommended for increasing strength and stamina and reducing fat.
Amalaki (Emblica officinalis or Indian gooseberry) – A powerful antioxidant that supports the immune system and promotes general health.
Brahmi (Bacopa monnieri) – Known to improve cognitive functions and potentially help reduce stress.
Kapikachchu (Mucuna Pruriens) – Increases dopamine levels, potentially affecting mood and sexual function.
Tulsi (Holy Basil) – An adaptogen that helps the body adapt to stress and may provide increased stamina.
Rhodiola (Rhodiola rosea) – Although not traditionally Indian, it is now adopted in Ayurvedic medicine due to its strong adaptogenic properties.
Arjuna (Terminalia Arjuna) – It is believed to support cardiovascular health and stamina.
Pippali(long pepper)- Used to increase digestion and metabolism, which may be beneficial in maintaining optimal body weight.
Turmeric (Curcuma Longa) – It contains curcumin, a compound with anti-inflammatory properties that may aid muscle recovery.
Vidari Kanda (Pueraria Tuberosa) – Traditionally used to increase strength and density in body tissues.
Kaunch Beej (Mucuna Pruriens Seed) – The seeds of Mucuna pruriens are used to promote muscle growth and reduce fat.
Apart from him, Swagatika Das, who is the founder of Nate Habit said, "In Ayurveda, men's fitness is viewed holistically, combining yoga and exercise with a focus on endurance rather than high intensity. Pranayama, which enhances the breath cycle, calms 'Prana' (life force) and mind ('man'), thereby ensuring long-term fitness. Ayurveda emphasizes the consumption of anti-inflammatory and antioxidant-rich foods such as fruits and green vegetables. These options increase blood flow to muscles and organs, promoting vitality. Conversely, excessive consumption of red meat or sodium-rich foods can cause inflammation and reduce oxygen-carrying capacity, leading to fatigue. Additionally, avoiding 'tamasic' foods like fermented beverages, curd, alcohol and "stale khanna" helps maintain an active and energetic lifestyle, prevent lethargy and promote mental well-being.'
10 Ayurvedic Herbs for Overall Health:
Dr. Arun Pillai, who is the Wellness Director at Dharana at Shilim, listed the following:
Ashwagandha (Withania somnifera): Ashwagandha, known as Indian ginseng, is renowned for its adaptogenic properties. It helps the body adapt to stress, increase energy and improve overall vitality.

Turmeric (Curcuma Longa): Turmeric's active compound, curcumin, is known for its anti-inflammatory and antioxidant effects. It promotes joint health and supports the immune system.
Triphala: Triphala, a blend of three fruits, is a gentle detoxifier that aids digestion, supports the colon, and maintains regular bowel movements.
Brahmi (Bacopa monnieri): Brahmi is a powerful herb for brain health. It enhances memory, cognitive function and reduces anxiety, promoting mental well-being.
Amla (Phyllanthus emblica): Amla, or Indian gooseberry, is rich in vitamin C and antioxidants, boosts the immune system, enhances skin health and aids digestion.
Neem (Azadirachta indica): Neem is renowned for its antibacterial and anti-fungal properties, which promote healthy skin, oral hygiene and overall immune support.
Ginger (Zingiber officinale): Ginger aids digestion, reduces nausea and reduces bloating. It is an excellent herb for digestion and joint health.

Basil (Ocimum sanctum): Known as holy basil, basil is an adaptogenic herb that helps reduce stress, support the immune system and promote respiratory health.

Asparagus (Asparagus racemosus): Asparagus is especially beneficial for women's health. It supports hormonal balance, aids lactation and enhances reproductive health.
Haritaki (Terminalia chebula): Haritaki is celebrated for its rejuvenating properties. It supports digestive health, detoxification and promotes overall vitality.
(Disclaimer: The information provided in the article, including treatment suggestions shared by doctors, is for general informational purposes only. It is not a substitute for professional medical advice, diagnosis or treatment. Always seek the advice of your doctor or other qualified person regarding any medical condition. healthcare provider for any questions you may have regarding.)