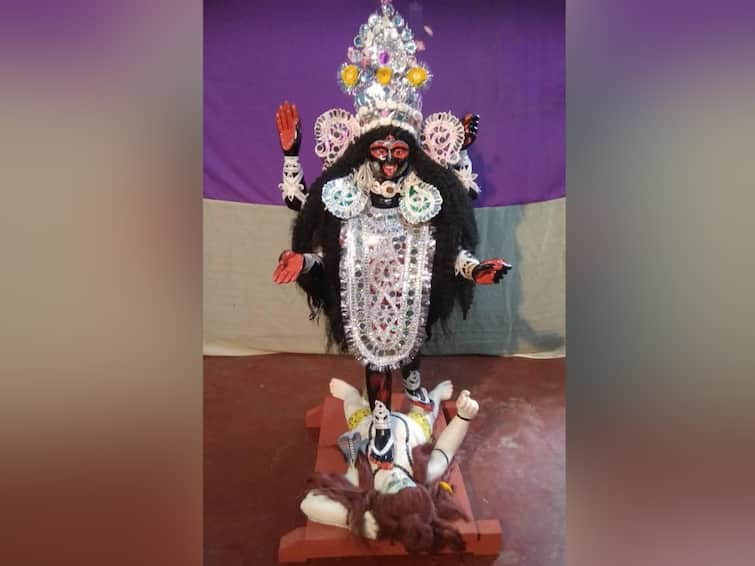 Kali Puja 2023 Glimpse of Banerjee House Kali Puja in Howrah
The tradition of Kali Puja started about 170 years ago in the Banerjee family in the Domjur area near the Hooghly River. Preparations for this puja begin immediately after Durga Puja, the outline of which is prepared on the day of Lakshmi Puja. The unique aspect of the domestic puja lies in offering 34 different types of offerings to the Goddess.
Talking about the Banerjee family, they had a close relationship with the famous Andul Rajbari. Over time, the puja shifted from Domjur to Kadamtala, and began to lead to a family residence, where family members across generations gather together for the worship of Maa Kali, and enthusiastically participate in various rituals that take place throughout the year. Let's go through the night and into the morning.
The day begins with the preparation of this special bhog which includes rice, luchi (fried bread), ghonto (mixed vegetable dish), different types of pulses, fried items, sweets, three types of fish dishes, roshogulla, kheer, Yogurt and are included. Chanachur (mixture). The Prasad also includes the revered 'Mahaprasad' which is prepared after sacrificing a goat in front of the Goddess. It is then offered to the deity during the midnight yagya ritual.
Going back in time, the festival has seen its fair share of incidents. One year, while transferring the puja from Kadamtala back to the ancestral home at Domjur, a dangerous incident occurred during the sacrificial ritual. It happened that Gobardhan Bandopadhyay, an important person of the family, accidentally slipped on the sacrificial pit while making the offerings, but fortunately, a major accident was averted. The following year saw the return of puja to Kadamtala.
The women brigade of the house considers this puja as the soul of their traditions and they play an important role in preparing Narus (coconut sweets) and Khoi Bhaja (a type of puffed rice), and their contribution to the puja is truly invaluable. ,
From old to young, women from different generations of the Banerjee family are engaged in the preparations, from cooking the various items offered as bhog to making the alpana and doing all the other details.
On the day of Kali Puja, the Banerjee household is illuminated with lights and lamps as family members from far and wide come together to worship Maa Kali. Dressed in traditional attire, they work continuously throughout the night, yet still find time for conversation, fun, frolic and laughter. Thus, an eventful night passes amidst dance, dhak, feast and lights.
As the city sleeps after Diwali celebrations, the Banerjee family remains awake till dawn engaged in prayers and devotion to Maa Kali.