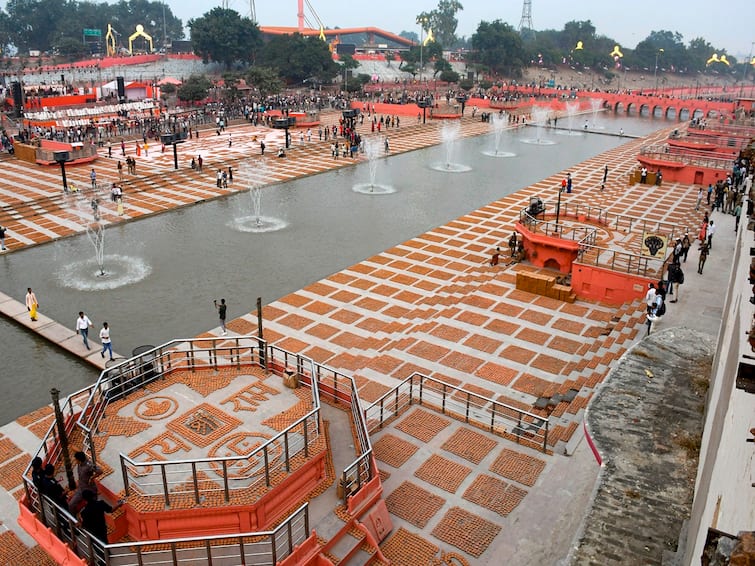 On the occasion of Diwali, people burn the effigy of Narakasura in Goa.
Diwali 2023 Live: Immerse yourself in the Diwali 2023 festivities with ABP Live, follow this space to stay updated with the latest pictures, videos and updates from every corner of the country during this bright festival of lights.
As the auspicious festival of Diwali is being celebrated, streets across India turn into a kaleidoscope of vibrant lights, glittering lamps and intricate rangolis. However, the customs and traditions associated with Diwali vary considerably across different regions of the country.
This year, Diwali, the festival of lights, is falling coinciding with Narak Chaturdashi on November 12, 2023. This festival has deep significance in Hindu culture, with various legends associated with its origin. While some believe that Diwali symbolizes the divine union of Lakshmi and Vishnu, others consider it a celebration of the birth of Lakshmi on the new moon day of Kartik.
In northern India, especially in states like Uttar Pradesh, Punjab, Himachal Pradesh, Haryana and Bihar, Diwali marks the return of Lord Rama to Ayodhya with Sita and Lakshman after 14 years of exile. Diyas are lit and fireworks are set off across the state, symbolizing the victory of good over evil. Additionally, the tradition of gambling on Diwali night is considered auspicious in these areas.
In Punjab, although Sikhs do not celebrate Diwali, Gurudwaras are illuminated, and homes are decorated with candles and lamps. In Delhi, Uttar Pradesh and surrounding states, houses are decorated with candles, lights, lamps and rangolis, and Lakshmi Puja is also performed at night.
Gujarat has a unique tradition of Diwali where a lamp lit with ghee remains burning all night. The next morning the flame is collected and used to make kajal, believed to bring prosperity for the entire year.
In Odisha, Diwali becomes a time to pay homage to ancestors, while in western India, especially Maharashtra, the festival is associated with business and trade. The markets are packed with buyers, and the festivities last for four days, with each day marked by specific rituals, including the aarti of cows on Vasubaras and elaborate Lakshmi puja on the main Diwali day.
Goddess Kali is worshiped during Diwali in eastern India including Bengal. In West Bengal, the celebration is known as Kali Puja, which involves late night puja, rangoli and symbolic lighting of lamps on high pillars to escort the souls of ancestors to heaven.
Southern India, especially Tamil Nadu, celebrates Diwali in the Tamil month of Aipasi. Preparations include cleaning the ovens, lime them, painting religious symbols and taking oil bath on the main day of Naraka Chaturdashi.
As the country prepares for Diwali, these diverse customs and celebrations showcase the rich tapestry of traditions that make India's festival of lights a truly unique and culturally enriching experience.