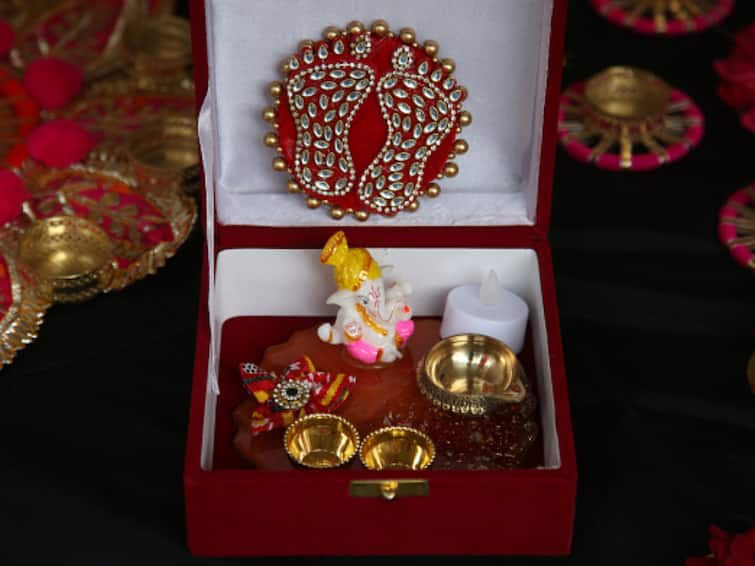 Pacify Shani Dosh – Know the importance of lighting a lamp on this day
Kartik Amavasya Puja: Kartik Amavasya is being celebrated today on 13th November. It is also known as Badi Amavasya and Diwali Amavasya. This day holds great importance for performing rituals for ancestors and doing charitable works. According to mythological beliefs, Goddess Lakshmi visits the earth on the night of Kartik Amavasya. In homes which have peaceful environment, cleanliness and shine, Goddess Lakshmi resides, and blesses the family with wealth and prosperity.
Activities to be done on Kartik Amavasya:
According to Skanda Purana, on the day of Kartik Amavasya, Bhagavad Gita should be recited, food should be donated and lamps should be donated. Additionally, it is advised to worship the Tulsi plant, beloved of Lord Vishnu. It is believed that offering Tulsi to Lord Vishnu on this day brings wealth. Eating food on this day increases happiness and gives the blessing of long life. It is also advisable to take bath in rivers, water bodies or sacred ponds. After offering water to Lord Sun, sesame seeds should be spread in the water.
It is advised to recite Navagraha Stotra in the morning to reduce planetary effects and get peace from the nine planets. Chanting Vishnu Sahasranama on this day has special significance. Due to its effect, any adverse combination present in the birth chart gets eliminated. It is believed that lighting a lamp in a temple or a poor person's house on the day of Kartik Amavasya reduces the effect of Saturn. By anointing Shiva Linga with honey on the day of Kartik Amavasya, all the wishes are fulfilled.
Importance of lighting a lamp on Kartik Amavasya:
The tradition of lighting lamps on the day of Kartik Amavasya is prevalent. It is believed that during Pitru Paksha, when ancestors come to earth, lighting their path with lamps helps them not face difficulties in returning to the ancestral world. Worship and donation done on Amavasya day is considered to be fruitful. On this day, all the wishes are fulfilled by special worship of Lord Shiva and Parvati.
Numerology Horoscope for November 13
Today marks the beginning of new opportunities and innovative ideas. Number 13 represents individuality, uniqueness, and transformative power that can have a profound impact on both yourself and others. Let's take a look at today's numerology predictions based on your date of birth, as suggested by Acharya Neeraj Dhankhar, a Vedic Astrologer and Numerologist, Founder – Astro Zindagi.
Number 1 (born on 1st, 10th, 19th or 28th)
It is possible that you may face some difficulties in communicating with assertive people. However, rather than dismissing these encounters, you should try to approach them with a learning mindset. Cooperating with others in financial matters can yield positive results. Your loved ones will appreciate your warmth. However, do not neglect your family in achieving your social goals. Although it is important to express your opinion, be open to the ideas of others.
Number 2 (born on 2, 11, 20 or 29)
It is advisable to consider exploring innovative ideas at the workplace. By doing this you can get recognition. Collaboration with coworkers is highly encouraged to foster a supportive and productive work environment. It is advised to be careful in financial matters as there may be people who may be trying to cheat you. If you are in a relationship, it is a good idea to plan a romantic outing and surprise your partner. For single people, today holds the possibility of new romantic relationships.
Number 3: (born on 3, 12, 21 or 30)
It is important to be vigilant in your work environment, as not everyone may have your best interests in mind. Therefore, it is important to look at office dynamics with a connoisseur's eye. Invest your time and effort in honing your skills because knowledge will be your greatest ally in overcoming obstacles and taking advantage of opportunities. Pay attention to subtle cues and be cautious when it comes to matters of the heart. This is a time for self-love, making sure you are in a strong and emotionally resilient state.
Number 4 (born on 4th, 13th, 22nd or 31st)
Although things may be going well for you at the moment, it is important not to make too much of it. It will be important to manage your finances wisely to maintain the positive momentum you have built in your career. Your family may come to you today for guidance or help, giving you a chance to strengthen your family relationships, which are essential for a good life. For those who are looking for love, it is recommended that you remain open to new experiences and connections.
Number 5 (born on the 5th, 14th or 23rd)
A strong work ethic and commitment to excellence can go a long way in helping you succeed in life. Sometimes, you may come to a point where you need to make important career decisions. It is important to fully assess your options, taking into account both the immediate benefits and long-term consequences. Your ability to find practical solutions will not only help you but also contribute to a more harmonious family life. Don't hesitate to make choices that lead to a more stable and fulfilling romantic life.
Number 6: (born on 6th, 15th or 24th)
It is important to consider smart investing and planning for the future. Now is a good time to review your financial goals and make necessary adjustments. It is also an opportunity to showcase your skills and take on new responsibilities at the workplace. Be open to collaboration and networking, as these interactions may yield unexpected opportunities. Show love and gratitude to build a foundation of trust and understanding within your family.
Number 7 (born on 7th, 16th or 25th)
You are ready to showcase your leadership skills, inspiring those around you with your positive attitude and unwavering determination. Your ability to motivate others will be the driving force for success in team projects and collaborations. Expect to see an increase in your income as a well-deserved reward for your hard work and dedication. Whether you are a student or engaged in continuing professional development, this is an opportune time to expand your knowledge and skills.
Number 8: (born on 8th, 17th or 26th)
Achieving financial stability is possible, but it requires maintaining a disciplined approach. One can get relief from the worries and stress associated with financial matters by following a carefully prepared financial plan. It is important to treat your family relationships with the same level of dedication that you have for your professional life. Your strength and perseverance can become a source of support for your loved ones, giving them the confidence they need. Don't let the fear of insecurity hinder the development of a fulfilling relationship.
Number 9: (Born on 9th, 18th or 27th)
If you're considering a career change, rest assured that the universe is on your side. Your past investments will yield positive results, bringing stability and abundance in your life. If there has been a misunderstanding, now is the time to clarify the situation and resolve the differences. Celebrate the bonds that bind you to your loved ones, and enjoy the love that surrounds your family. While love is in the air, be sure to make any agreements or promises wisely.
(Disclaimer: The content of this article is based solely on astrological predictions, and should be taken as general guidance. Individual experiences may vary. ABPLive.com Does not assert the accuracy or validity of any claims or information presented. It is strongly recommended to consult a qualified expert before considering or implementing any information or belief discussed here.)