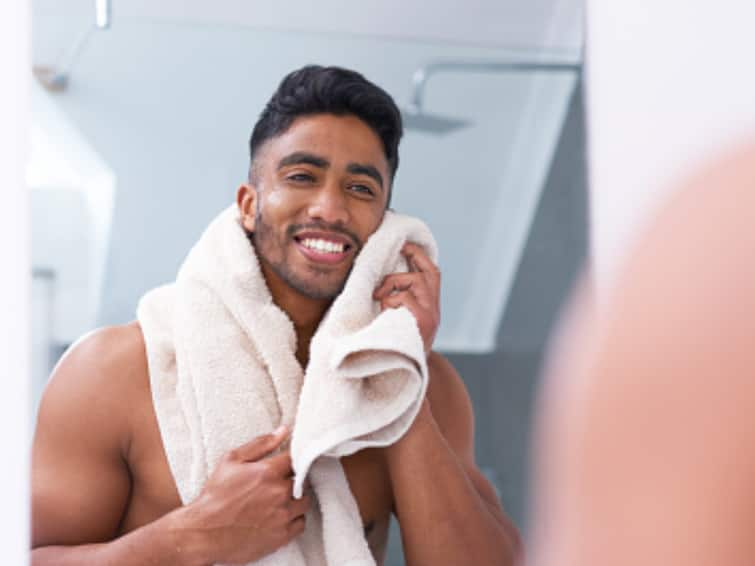 Skin Care Tips for Men to Get Glowing Skin After Festivals
When we gather to discuss skin care methods, a man's skin care regimen seems to be the least interesting topic. For most people, men's skin care is probably non-existent. Dr. Annu Prasad, Ayurvedic consultant of Birla Ayurveda, said that the largest organ of the human body is the skin. The skin is an organ like any other, and it does not know gender. We should give equal priority to men's skin care as to women's skin care.
He said, "Since skin is the outermost covering of the body, it requires special attention and care. Due to increasing pollution and stress levels, the importance of skin protection has increased." Men usually use whatever face cream comes to hand and do not follow any skin care regimen. These face creams for women do not do anything special for the skin. However, now is the right time to use men's products, such as face washes, anti-aging creams, whitening creams and glow creams, which are all made with natural ingredients."
Skin Care Tips for Men:
Dr. Navneet Haror, a gold medalist, chief dermatologist, cosmetic and hair transplant surgeon and founder of Dr. Haror Wellness, shares skin care tips for men:
The foundation of any effective skin care regimen is simplicity and consistency. For men, it's not about adopting a complicated routine; It's all about a few basic steps: cleansing, moisturizing and sun protection.
A clean canvas is where it all starts. I recommend starting and ending your day with a gentle, hydrating cleanser. Cleansing helps the skin get rid of dirt, excess oil and environmental pollutants. By maintaining a consistent cleansing routine, you can prevent common skin problems like acne, blemishes, and dull complexion.
Hydrated skin is healthy skin. It is essential to include a suitable moisturizer in your routine. Choose a moisturizer that matches your skin type so that it remains soft and supple. The right moisturizer can also contribute to anti-aging by reducing the appearance of fine lines.
Sun protection cannot be compromised. UV rays from the sun can damage your skin, increasing the risk of premature aging, sunspots, and skin cancer. Always use a broad-spectrum sunscreen with at least SPF 30 to protect your skin from these harmful effects.
It is essential to understand your skin type and select products accordingly. Men often have different skin care needs than women. Tailor your regimen to your specific skin type, whether it's oily, dry or sensitive.
The festive season sometimes brings celebration as well as stress. Stress can cause skin problems like acne and eczema. To combat this, consider practicing stress management techniques like deep breathing and yoga to ensure healthy skin.
Once the Diwali festival is over, it is time to focus on post-Diwali skin care. I recommend exfoliating to remove dead skin cells and promote skin renewal. Exfoliation can revitalize your skin, making it fresh and refreshed.
Consult a dermatologist for personal care
For those who want a more personalized approach to skin care, it is an excellent idea to consult a dermatologist. Dermatologists can assess your specific skin needs and offer tailored solutions to achieve your skin care goals.
Ayurvedic Skin Care Tips
In this regard, Dr. Annu gave the following suggestions:
Clean your face with Ayurvedic face wash
Starting with a cold water face wash is the first step in skin care. Use face washes with Ayurvedic ingredients like Sariva, Palandu and Kumari for men. They provide clear skin and reduce dark spots and blemishes on the face.
Hydration is essential for human skin care
If you drink at least eight glasses of water every day, your skin will always remain smooth, soft and the internal skin health will also be better. Hydration is not only important for healthy skin, but it also benefits the entire body.
Use Ayurvedic skin care products to maintain a men's skin care routine.
A healthy diet and plenty of water are important, but taking care of a man's skin is also important. Use an Ayurvedic or men's facial cleanser three to four times a day to cleanse your face. For sun protection, use SPF, and for a non-greasy finish and to maintain your natural glow, use a men's facial glow cream. Men's face whitening cream for blemishes and dark spots on face.
Use Ayurvedic Men Face Cream to moisturize your face.
Skin that is well moisturized retains its suppleness and becomes revitalized. In addition to various men's face creams, regularly moisturizing dry skin can have a significant effect.
Shaving carefully and taking care of your skin after shaving
Shave with a high-quality razor, paying attention to the direction you're shaving. Do not change the direction of shaving to inhibit growth. Apply an Ayurvedic skin care product immediately after shaving, such as beard oil or men's facial cream with cooling herbs, or simply use a moisturizer for dry skin, such as Kumkumadi Tailam.
Which food items and habits should be avoided according to skin type?

,
Diet and lifestyle have a significant impact on skin texture. Depending on our skin type, there are certain foods we should avoid. Water-based foods like watermelon, banana, cantaloupe and cucumber are highly recommended for people with oily skin. Whole grains, brown rice and oats are examples of fiber-rich foods that can be included in the diet.
Use coconut water two or three times a week to get relief from dry skin. Avocado and nuts and seeds like flax, chia, walnuts and almonds provide essential antioxidants and hydration. People with normal skin do not need to follow any special diet, but they should stay away from excessive amounts of oil and spices.
Effect of changing weather on skin:
Shridha Singh, co-founder of TAC – The Ayurveda Company, said, "Your skin It is incredibly adaptable and reacts to changes in weather in unique ways. To keep it nourished, protected and moisturized all year round, it is essential to adjust your skin care routine. Hydration is important, so drink plenty of water daily to keep yourself healthy skin When doing a hydrated cleanse, choose a gentle Ayurvedic cleanser with ingredients like gold dust, manjistha and sandalwood to remove impurities without stripping your skin. skinNatural oil. Avoid harsh cleansers that can cause damage skin Problem. For moisturizing, choose natural Ayurvedic products that suit you skin Type. Ingredients like kumkumadi, Indian rose, shea butter, aloe vera, or coconut milk can be incredibly beneficial. And remember, protect yourself even when the weather changes skin Protect against the sun's UV rays with sunscreen or appropriate clothing and a hat. Yours skin Will thank you!"