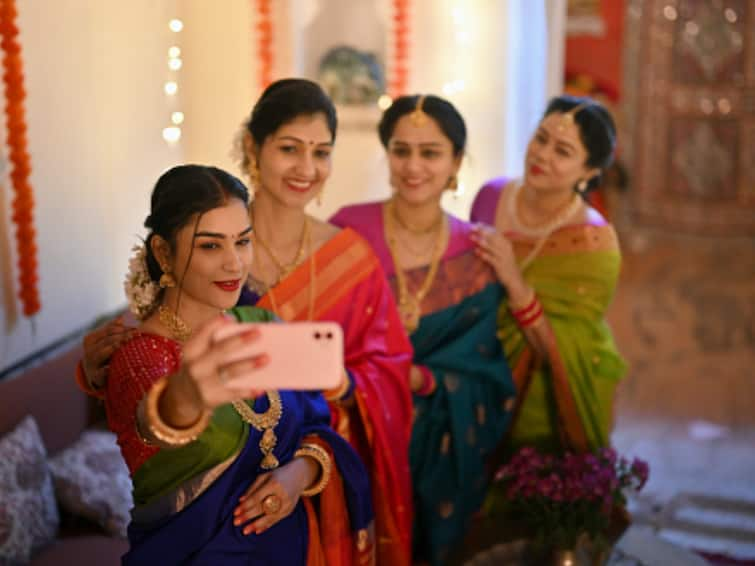 Skincare tips to enhance your look on this day
Getting the festive glow during Diwali involves practices that prioritize both skin care and overall health. According to Dr. DM Mahajan, Senior Consultant, Dermatology, Indraprastha Apollo Hospital, "First of all, hydration is important; ensure adequate water intake to keep the skin supple and glowing. Eat antioxidant-rich foods like fruits, vegetables and nuts. Include." To strengthen skin health and combat oxidative stress. During festivals, consumption of sweet and oily foods can help prevent skin problems.'
Ways to take care of your skin:
Dr. Navneet Haror, who is a gold medalist, chief dermatologist, cosmetic and hair transplant surgeon and founder of Dr. Haror Wellness, has listed some ways to take care of your skin this Diwali.
A beauty ritual for every woman
A glowing complexion is built on a strong foundation: a well-crafted skin care routine. For women, this includes the basics: cleansing, moisturizing, and sun protection. These ingredients are your allies in providing skin nourishment that is not only aesthetically pleasing but actually healthy.
importance of cleaning
The journey towards glowing skin starts with proper cleansing. It is a ritual that should be observed both in the morning and at night. A gentle, hydrating cleanser is your go-to for purifying skin, getting rid of impurities, and creating a refreshed canvas. Frequent cleansing helps in eliminating common skin problems like acne, blemishes and dullness.
Nourishment through moisturizing
Hydration is the lifeblood of supple and youthful skin. That's why I advocate adding a moisturizer to your daily regimen that's tailored to your specific skin type. The right moisturizer not only maintains skin's softness and smoothness, but also contributes to anti-aging, reducing the appearance of fine lines.
Sun protection: shielding your skin
One aspect of skin care that can never be ignored is sun protection. The sun's UV rays can damage your skin, causing premature aging, sunspots, and even increasing the risk of skin cancer. That's why I stress the importance of using a broad-spectrum sunscreen with at least SPF 30 to protect your skin.
Understanding Your Unique Skin
It is fundamental to recognize your skin type and choose products that suit it. Women often have specific skin care needs compared to men. Therefore, it is important to customize your skin care regimen to meet your specific needs, whether it is oily, dry or sensitive skin.
Balancing diet and happiness during Diwali
During this time, the temptation to indulge in sweets and festive dishes is inevitable. However, it is important to maintain a balanced diet, especially if you are prone to skin problems. Foods high in sugar and dairy can aggravate acne. Instead, choose a diet rich in fruits and vegetables to maintain a clear and glowing complexion.
Stress Management for Glowing Skin
Amidst the festivities, the festive season can sometimes be stressful. Stress can act as a trigger for various skin problems like acne and eczema. To combat this, I recommend deep breathing and practicing stress management techniques like yoga to ensure that your skin remains healthy and vibrant.
Your path to recovery after Diwali
After the grandeur of Diwali fades, it's time to focus on post-Diwali skin care. I recommend incorporating exfoliation into your routine to remove dead skin cells and encourage skin renewal. This process can revitalize your skin, refreshing and revitalizing it.
Unleash your inner glow: How to get flawless skin and beautiful hair this Diwali
Dr. Meghna Maur, who is a popular dermatologist, cosmetologist, trichologist and laser specialist And the founder of Skuccii said, "It is essential to prioritize a strong skin care routine that caters to the specific needs of your skin during Diwali."
Start by choosing a gentle cleanser for dry skin to cleanse the skin without stripping it of its natural moisture, while opting for a salicylic or AHA-based cleanser for oily skin to maintain a clear and balanced complexion.

Follow with a light moisturizer that provides hydration without weighing down your skin, ensuring it remains supple and vibrant throughout the festivities.

Integrate the transformative power of Vitamin C and Niacin Amide-based serums into your morning ritual, leaving your skin filled with a youthful glow that matches the festive atmosphere.

Complete your skin care regime by protecting your skin with a reliable sunscreen, protecting its glow and preserving its natural beauty amidst the bright Diwali lights.

Also, one must follow a strict makeup removal routine after makeup, using micellar water is the easiest way to get rid of makeup without causing any irritation on the face.
Talking about hair care he mentioned the following:
Start a hair care routine that starts with a cleansing session using effective shampoos, ensuring that your scalp remains energetic and your hair shines with vitality.

Embrace the nutritional benefits of a diet rich in almonds, flax seeds, sunflower seeds and pumpkin seeds, which provide the essential nutrients your hair needs to provide health and shine.

Incorporate the therapeutic benefits of Vitamin E through weekly scalp massages, reducing any dryness and promoting a healthy scalp environment that perfectly complements the dazzling allure of Diwali celebrations.

Never forget to use a protective serum on your hair before using a blow dryer or other hair styling tools.
Additionally, Anurag Kedia, co-founder of Pilgrim, said, "I believe that any festival is incomplete without enhancing the natural glow of one's skin. While traditional Diwali rituals are a great way to get the glow on the day of Diwali, People want to pamper their skin and hair in the week before Diwali. I would say the most important thing is to exfoliate with masks and nourish your skin with the right moisturizers and serums for your skin type. Additionally, the hair mask is an easy way to do a hair spa at home. It is healthy, nourished and silky and ready to meet the styling needs for Diwali parties."