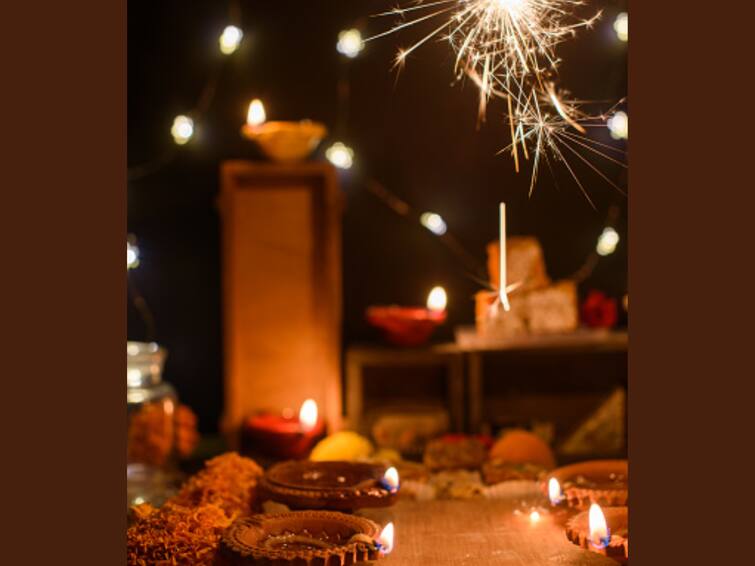 Tips to decorate your home in a unique way
Diwali, the festival of lights, beautifully encapsulates the richness of Indian culture. As homes come alive with warmth and light, efforts begin to seamlessly integrate this vibrant tradition into the interiors. From the opulent elegance of traditional aesthetics to the smooth lines of contemporary minimalism, Diwali decor has the remarkable ability to complement and enrich a range of interior design themes.
Let's take a look at some unique ways to decorate your home this Diwali:
Simran Kohli, who is the founder of Dusan, listed the following:
1. In the gentle embrace of scented candles
Imagine the soft glow of scented candles creating a warm embrace, filling the room with fragrant whispers of vanilla, lavender or sandalwood. A scented candle symbolizes the starry night, where the peaceful dance of flames soothes the heart.
2. Planting and growing hope
For those who appreciate the lush artistry of nature, consider gifting planters. These vessels of life breathe a sense of renewal into every room, reminding us that the beauty of life can be found in the simplest things. Like a seedling growing toward the sun, these plants symbolize growth and hope.
3. Oil Burner with Diffuser – A Symphony of Fragrances
Oil burner with diffuser circulates aroma in the house. It captures the essence of ancient wisdom, where fragrances were used to create an atmosphere of peace and reflection.
Embracing Diversity: Diwali Decoration Ideas for Different Design Styles
1. Traditional approach
One of the most favorite ways of Diwali decoration is linked to tradition. Rich, warm colors like deep reds, golds and greens set the stage for a traditional aesthetic.
Ar. Abhigyan Niyogi, founder and principal architect of Chromed Design Studio, Said, "Vibrant colors through accessories and decorations can create a harmonious and visually appealing atmosphere that embraces the spirit of the festival. Traditional brass lamps, or diyas, add to the warm and inviting ambiance of Diwali. Silk Or curtains in brocade fabrics featuring intricate patterns further elevate the space. Artisan tapestries and hand-painted murals on the walls pay homage to the cultural heritage of this festive occasion."
2. Contemporary touch
For those with a modern design bent who prefer a more restrained and minimalist approach to Diwali decor, the festival still provides the perfect opportunity to fill your space with smooth lines, minimalistic decor and a muted color palette.
Hardesh Chawla, Principal of Essentia Environments, Explained, "The modern minimalist approach shows that even with a restrained aesthetic, the festival spirit can be celebrated in a sophisticated and elegant manner. Choose clean, uncluttered spaces that allow key decor elements to shine. Geometrically Consider a centerpiece inspired by candle holders or LED lights in metallic finishes. Artistic light fixtures or sculptures can be strategically placed to draw the eye. Choose accessories with clean lines and neutral tones that complement carefully selected artwork or accents. Allows pops of color through the pieces.
3, rustic feel
A rustic aesthetic brings a cozy, practical ambiance to your Diwali decor. Adopting natural materials like wood, stone and earthy textiles creates a warm and inviting ambiance.
"Distressed furniture pieces, such as distressed wood tables or vintage chests, add character and a sense of nostalgia to the space. Incorporate textiles like burlap or linen for curtains and cushions, which add both comfort and a festive touch." For lighting, consider lanterns with flickering candles or Edison bulbs housed in wireframes, which provide warmth and Intimate Light," said every country, To add a touch of richness, layer textiles with subtle metallic accents that strike a balance between rustic charm and sophisticated elegance.
4. Eclectic Mix
For those with an adventurous spirit who love to mix styles and eras, an eclectic approach to Diwali decor is just the ticket. Ar. recognition Suggested, "Mix and match patterns, textures and colors with confidence, creating a visually dynamic interior space that offers a festive ambiance. A bold statement piece, like a vibrant tapestry or ornate mirror, can serve as a focal point that sets the tone for the entire room, filling it with a festive atmosphere. Introducing a variety of accents, from intricately patterned bohemian textiles to Asian-inspired ceramics, communicates cultural richness, further enhancing the festive atmosphere. Remember, in eclectic design, there are no strict rules – it's all about what speaks to you and reflects your unique style and personality."
Budget Friendly Decorating Tips:
Aditi Murarka Agarwal, co-founder of Nestasia
The magic of candlelight: ready-made stands and scented candles:
Diwali symbolizes the enchanting spirit of lights, colors and fragrances. Gorgeous candle stands serve the dual purpose of being great décor items as well as adding light and ambiance to the space. Decorate your Diwali corners with the gentle, organic glow of candles made from dried flower petals. This harmony adds a rustic charm, and the delicate dried vegetation invites a lovely ambiance.
Toran and Wreath: Welcoming Prosperity with Artistry:
The Toran or Bandarwal and the floral wreath symbolize the welcome of prosperity and good fortune. Investing in a piece that masterfully blends the quintessence of Indian and global design aesthetics is a guaranteed way to attract attention and make a great first impression. Enhance your entrance with a meticulously handcrafted toran decorated with floral and rangoli inspired motifs, pendants, shola flowers and complement it with a wreath adorned with artificial flowers and dried elements, reflecting a hospitable ethos, as well It is also durable.
Festive utensils: snacking, dining and bringing people together:
Table decoration is an integral part of preparing the house for the celebration. Thalis, trays and bowls serving delicious snacks, delicious sweets and dry fruits are the best way to welcome guests at home during the festive months. Serveware like cut bowls, jars with nuts and serving trays play a centre-stage role in serving up a storm to friends and family and take the celebration a notch higher. Also, don't forget to make your kitchen festive and organized.
Floral Rangoli: Traditions with a twist:
Rangoli, a sacred Diwali tradition, takes a contemporary twist with the beauty of flower rangoli. Use reusable stencils and mats, turning this age-old art into an accessible contemporary canvas.
Wall hanging decoration: message of renewal:
Diwali symbolizes collective rejuvenation, and the wall hangings tell this story clearly.
Furniture ideas to create a warm and inviting space
Aditya Tiwari, director of Ashley Furniture Homestore, Jamshedpur, suggested Some simple and effective ways to create a comfortable living room.
redecorate
Rearranging furniture can give your living room a different look. Try being innovative in the ways you move your furniture. Move furniture away from the walls, instead place furniture in the middle. This will give a feeling of spaciousness. Redecorate your living room for the occasion by using the multi-functionality of an ottoman or stool.
wall accent
Redecorating your home doesn't have to be expensive. Creating eye-catching walls in a lobby or living room is a quick and easy way to elevate your space. Choose a location where it can get maximum visibility. Create an eye-catching wall using textured paint, wallpaper, decal design stickers, etc.
bring your plants inside
Indoor plants or succulents that require minimal sunlight and water can make your living room attractive with minimal effort. Keep them in some fancy metal or ceramic vessel. You can also add some string lights to them.
Refurbish soft furnishings
Bring in the spirit of the festive season by laying out colorful table runners and place mats. Change out rugs and linens to give any space a new look. Mix and match cushion covers with different designs, colors and fabrics.
nooks and crannies
Diwali is all about lights. Identify the neglected corners and decorate them with some rangoli or terracotta diyas. You can also place some terracotta toys and figurines, and sprinkle fresh flowers, which can be the focal point of your room. Make garlands of some fresh or artificial flowers and stick them on the table or make designs with them. Don't forget to grab a bowl of potpourri and some scented candles to appeal to your olfactory senses.