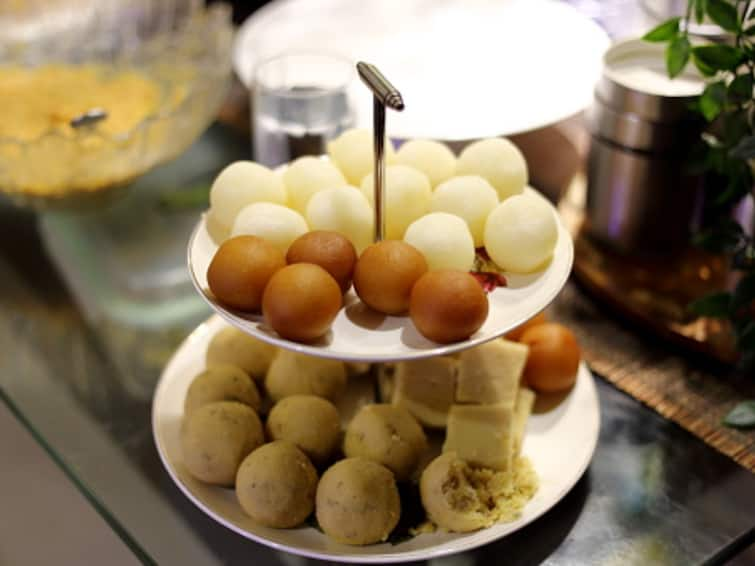 Try sweet dishes at home on this day
As we usher in the auspicious occasion of Dhanteras, what better way to celebrate the prosperity and sweetness than indulging in the art of making delicious sweets? These traditional sweets not only appeal to the taste buds but also weave a web of cultural richness and festive joy.
In this collection of sweet recipes prepared for Dhanteras, let's embark on a culinary journey that combines the essence of tradition with the creativity of the kitchen. From the golden color of the laddus to the aromatic richness of the kaju katli, each dish is a testament to the heritage of Indian sweets, offering a perfect blend of tradition and innovation.
1. 24 Carat Gold Gram Flour Laddu (By Prabhjit Singh Lehal, Chef de Cuisine, Conrad Pune)
Material:
Ghee

250 grams

Gram flour

200 grams

Sugar

150 grams

cardamom powder

2 grams

chopped hazelnuts

100 grams

gold leaf

5no
Method:
Take a big pan, heat 250 grams of ghee in it and add 200 grams of gram flour in it.

Fry on low flame until the gram flour mixes well with the ghee. Make sure to use coarse gram flour for a grainy texture.

Keep frying on low flame. If the mixture seems dry then add one more tablespoon of ghee.

After 20 minutes, gram flour starts releasing ghee.

Continue frying the gram flour until it turns golden brown and grainy and cook for 30 minutes.

Then pour the mixture into a large bowl, let it cool slightly.

Meanwhile, take 2 tbsp hazelnuts and dry roast them.

Mix roasted dry fruits in roasted gram flour-ghee mixture.

Put 150 grams of sugar and 2 grams of cardamom in a blender and make a fine powder or you can also use caster sugar.

When the gram flour cools down (slightly warm), add powdered sugar to it.

Mix well making sure everything is well combined. Do not add sugar if the mixture is hot, as it will melt the sugar and make the mixture watery.

Prepare ball sized laddus by adding sugar as required.

Finally, decorate the laddu with gold leaf.
2. Kaju Katli (By Dhanraj Koli, Senior Sous Chef, The Park, Navi Mumbai)
Material
1½ tbsp ghee, melted, plus a little extra for rolling

250 grams unsalted cashews

175 grams white sugar

1 pinch saffron threads

¼ tsp ground cardamom
Method:
Line a shallow baking tray (our tray was 30cm x 20cm) with baking parchment and coat with a thin layer of ghee (using about ½ tablespoon). Cancel. Add the cashews to the frying pan and fry slowly for 3-4 minutes, stirring regularly to prevent the cashews from burning and turning brown. Once roasted, turn off the flame and take it out in a plate to cool.
Add the cold roasted cashews in small batches to a high-powered food processor and blitz about three times in very short intervals. It is very important not to grind it for too long otherwise it will become lumpy and sticky due to oil secretion. Once you have a slightly fine powder, pour it into a strainer placed over a bowl and sift it gently. Break the larger pieces again and sift as before until all the cashews are fine enough to pass through a sieve.
Place a medium-sized frying pan on medium heat, add 80 ml of water and sugar. Bring to a gentle boil, stirring as it begins to bubble. Once the sugar dissolves, about 2-3 minutes, reduce the heat to low and carefully add the cashew powder, stirring with a spatula. Mix the powder well so that no lumps remain. Mix saffron threads and ground cardamom. Cook while stirring for another 5 minutes. Add 1 tablespoon ghee and keep stirring. After 8-10 minutes the mixture will start to thicken like a thick liquid.
To check that the mixture is ready, take a teaspoon of dough and let it cool for 5 minutes, then take a pinch of ghee between your thumb and forefinger along with the cold dough and roll between your fingers. It should roll easily into a ball without sticking. If it sticks, continue heating the mixture over low heat for a few more minutes. While the dough is still warm but not too hot to handle, spread onto the tray and let cook for about 15 minutes.
Rub a little ghee on your hands, then knead the dough gently for 1 minute (it will feel like soft fudge) and then carefully begin to flatten it with your fingers into a small circle. – Add a few drops of ghee on the flour. With the help of a rolling pin, gently roll the dough into a rough square, about 1 cm thick.
Using a pizza cutter or a sharp knife, cut the flattened dough into squares with 3 cm diagonals on both sides and shape them into diamond shapes. The kaju katli now needs to set at room temperature for about 1 hour, after which it is ready to serve. They should be set to a soft fudge-like consistency,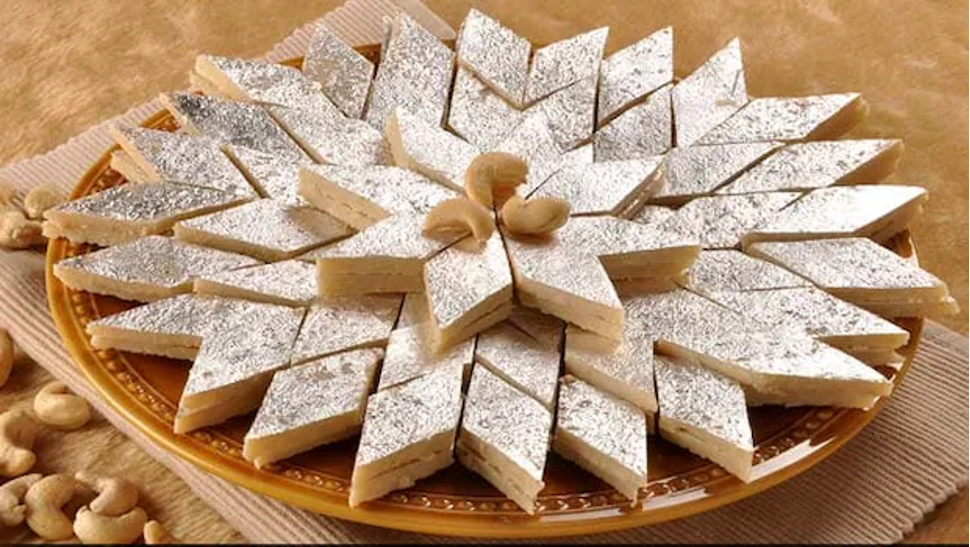 3. Ragi Laddu: A healthy twist to the traditional delight (Nishant Kumar, CEO, Earthilia by Earthy Twins)
Ragi, also known as finger millet, is a nutritional powerhouse that has been a part of the Indian diet for centuries. Ragi Laddu takes this age-old grain and turns it into a delicious dish.
Here's how to make these healthy recipes:
– Heat ghee in a pan and add ragi flour to it. Fry it on low flame until aroma starts coming from it and its color changes slightly.
Make syrup by melting jaggery with some water in another pan. Filter the mixture to remove any impurities
Mix roasted ragi flour, jaggery syrup, chopped nuts and cardamom powder. Stir it well until it becomes a sticky dough
Let the mixture cool slightly until you can hold it in your hands
Shape the mixture into laddus and garnish with dry fruits if required.
Your ragi laddus are ready to enjoy. They are a nutritious and guilt-free dish that you can gift to your loved ones this Diwali
4. Choco-Coconut Karanji (By Chef Ranveer Brar, Hershey India)
Material
15-20 fresh dough sheets

oil for deep frying



Ingredients for Stuffing:
a handful of raisins

30 grams chopped nuts (pistachios, almonds, cashews)

Almond Spread with 2 tbsp cocoa

4-5 dates cooked and pureed

5 tbsp dry coconut

1 tablespoon milk powder

2 tbsp chocolate syrup
Method:
For stuffing:
– Add ghee, raisins and dry fruits in a pan and fry for 30 seconds.

Add almond spread, desiccated coconut and cocoa with chocolate syrup and cook for 2 minutes. Add milk powder.

Take it out in a bowl so that it cools down quickly

Mix well and keep the stuffing aside
For outer layer:
Take 15-20 prepared fresh dough sheets

Hold a circle in your hand and place ½ tsp stuffing in the center and seal the ends with water and give it the shape of a karanji.

Use a fork to give a unique design on the edges

Repeat the same process with the remaining dough. Make a batch of Karanji and keep it ready
For frying:
Heat oil for deep frying.

– Add karanjiya and deep fry until golden

Place the fried karanji on a wire rack and let it cool completely.

Drizzle some chocolate syrup on top

Serve them any time of the day
5. Dry Fruit Barfi (By Chef Ranveer Brar, Hershey India)
Material:
2 tbsp ghee

1 cup cashew powder

1

,

2

One cup sesame powder (roast white sesame seeds and grind them)

1

,

2

cup

strawberry syrup

1½ tbsp chopped almonds

1½ tbsp chopped pistachios

1½ tbsp chopped cashews
equipment needed:
1 heavy bottom pan

1 spatula

1 barfi dish/plate
Method:
– Put ghee in a heavy bottom pan and heat it.

Add cashew powder, sesame paste and chopped nuts to ghee.

Cook it together until the moisture evaporates. Do not let the mixture turn brown.

Add the strawberry syrup and cook until the mixture is combined and semi-dry.

Put the mixture in a barfi tray or a plate to freeze. Keep it aside at room temperature for 2 – 3 hours.
6. Rose, Mawa and Gulkand Laddus (By Chef Ashish Kadam, Novotel Mumbai International Airport)
Material:
khoya/mawa)

1 cup

Gulkand (rose petal jam)

1/2 cup

dried rose petals (crushed)

2 tablespoons

Powdered sugar (adjust to taste)

1/4 cup

cardamom powder

1/2 teaspoon

Ghee

to grease hands
Method:
Heat a non-stick pan on low flame and add khoya in it. Cook it for a few minutes, stirring continuously, until it turns light golden brown. This should take about 5-7 minutes.

– Remove the khoya from the flame and let it cool down a little.

When the khoya becomes hot to touch, add crushed rose petals, powdered sugar and cardamom powder to it. Mix well until everything is evenly mixed.

Let the mixture cool completely. It should be cool enough to handle with your hands.

Apply some ghee on your hands, cut the mixture into small pieces and shape them into laddus and fill them with gulkand.

-Keep the laddus in a plate and let them set for some time. This helps them maintain their shape.

Once they are set, you can store them in an airtight container. They should remain fresh for a few days.