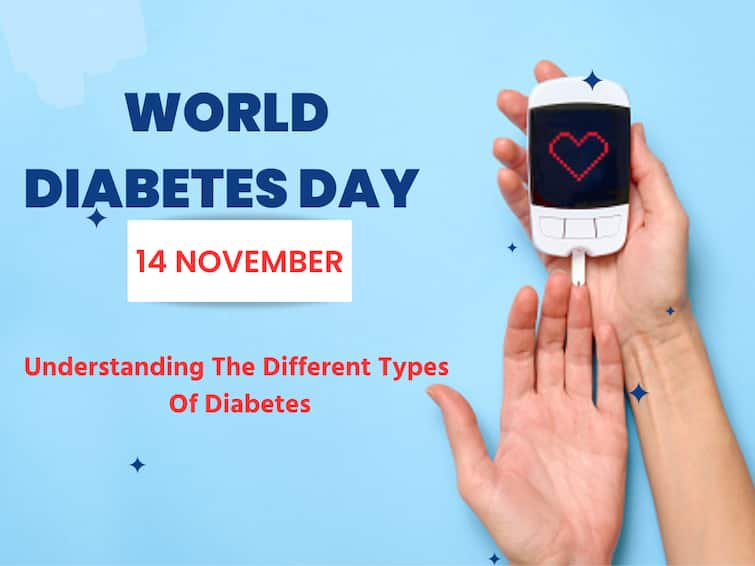 What are the different types of diabetes?
World Diabetes Day, observed annually on November 14, serves as the primary global initiative dedicated to raising awareness about diabetes mellitus. The campaign is led by the International Diabetes Federation (IDF) and revolves around a specific theme related to diabetes every year. In this article, we will discuss the different types of diabetes, their symptoms, causes and treatment options.
Different types of diabetes:
Dr. Vidya Walinjkar, a consultant diabetologist at Fitterfly, mentions the different types of diabetes:
Type 2 (diabetes mellitus)
It is a chronic lifestyle condition in which the body either does not produce enough insulin, or the body's cells are resistant to the hormone. As a result, individuals with this condition have high blood sugar levels. T2DM is usually seen in adults but can also occur in children. Common risk factors for type 2 diabetes are obesity, sedentary lifestyle, lack of physical exercise, family history of diabetes, pre-diabetes, smoking, alcohol and history of gestational diabetes or PCOD in women. Most cases of T2 diabetes have no symptoms, although some may experience symptoms such as weight loss, increased thirst, increased urination, increased appetite, and frequent skin or urine infections.
Type 1 (juvenile diabetes)
It is an autoimmune disorder in which the body produces little or no insulin, a hormone produced by the pancreas that helps blood sugar enter the body's cells for energy. When there is a lack of insulin, blood sugar levels increase, causing damage to many organs and causing complications.
Because this condition usually develops in children, teenagers, and young adults, type 1 diabetes is also called juvenile diabetes. About 5% to 10% of people with diabetes have this type of condition. It is less common than diabetes mellitus (type 2 diabetes). Insulin therapy is essential for the management of type 1 diabetes, along with lifestyle changes.
This form of diabetes is diagnosed during pregnancy and is characterized by high blood sugar levels. Most women have no symptoms and are diagnosed during routine blood tests done during pregnancy. Obesity, PCOD, older age and family history of diabetes are some of the risk factors for developing GDM. Lifestyle modification plays an important role in the management of GDM in the early stages. Insulin can be prescribed later if needed. Women who develop gestational diabetes have an increased risk of developing type 2 diabetes later in life.
Latent Autoimmune Diabetes in Adults (LADA)
Due to its similarity to Type 1 diabetes, it is also called Type 1.5 diabetes. Unlike type 1 diabetes, people with LADA appear to have gradually worsening symptoms over time. They may respond to oral medications for several months or years after diagnosis, although they require insulin therapy afterward. Symptoms of LADA usually appear a little later in life, around age 30.
Monogenic Diabetes in Youth/Maturity-Onset Diabetes in Youth (MODY)
This type of diabetes is rare and appears when a person is a young adult or teenager. MODY is caused by a genetic mutation that affects how well the body makes insulin. When there is not enough insulin, your blood sugar levels rise. There are different types of MODY diagnosis that require genetic testing.
Diabetes in newborns caused by single gene mutation It occurs in children less than 6 months of age. This diabetes is also called congenital diabetes or diabetes of infancy. Early treatment with drugs such as sulfonyl urea may improve outcomes.
There are some other forms of diabetes, such as:
Drug-induced diabetes, such as steroid-induced diabetes

diabetes caused by genetic disorders, and

Pancreatic Diabetes or FCPD
Treatment options for different types of diabetes:
Dr. Sumitra Agarwal said, "Regardless of the type of diabetes, patients should get regular checkups, monitor potential complications and adhere to prescribed treatments are important to manage diabetes effectively" and listed the following : :
Type 1 Diabetes:
Insulin Therapy: Since the body does not produce insulin in type 1 diabetes, patients need to take insulin regularly. This can be done through injection or insulin pump.

Blood Sugar Monitoring: Regular monitoring of blood sugar levels is important to ensure that they remain within the target range.

Carb Count: Patients often need to be aware of their carbohydrate intake as it affects blood sugar levels.

healthy lifestyle: A balanced diet and regular exercise can help manage blood sugar levels and overall health.
Diabetes Type 2:
Dietary Changes: Eating a healthy, balanced diet with controlled carbohydrates can help control blood sugar levels.

Exercise: Regular physical activity helps increase insulin sensitivity.

Oral medications: There are several medications, such as metformin, that help the body use insulin more effectively or reduce glucose production.

Insulin: Some people with type 2 diabetes may also need insulin, especially as the disease progresses.

Supervision: Checking blood sugar levels regularly ensures they are within the target range.
Gestational diabetes (diabetes during pregnancy):
Diet and Exercise: Dietary modifications and regular exercise can often help manage gestational diabetes.

Blood Sugar Monitoring: Regular checkups are important to ensure the safety of both mother and baby.

Insulin: Some women may need insulin if diet and exercise are not enough to maintain blood sugar levels.
Monogenic diabetes (a rare form caused by a single gene mutation):
Oral medications: Some forms can be treated with oral medications.

Insulin: Depending on the specific genetic mutation, some patients may require insulin.
Secondary diabetes (due to another condition or medication):
Treat the primary condition: Addressing the root cause can sometimes reduce secondary diabetes.

Medicine or insulin: Depending on the cause and severity, blood sugar-lowering medications or insulin may be needed.
Maturity onset diabetes in youth (MODY):
Oral medications: These are often effective.

Supervision: Regular blood sugar testing is necessary.
Neonatal Diabetes:
Oral medications: Some forms can be treated with specific oral medications.

Insulin: Some patients may require insulin, especially if diagnosed soon after birth.
Types of diabetes according to Ayurveda
The word "gonorrhea" literally means "urinary disorder accompanied by increased urine volume and turbidity." According to Ayurveda, there are twenty forms of Prameha; Four arise from Vata, six from Pitta and ten from Kapha influence. Diabeta is a subtype of gonorrhea that is marked by urine that is sweet and is associated with diabetes.
Basically, two types of gonorrhea are often seen in Ayurveda:
Dr Chaitali Deshmukh, who is an Ayurvedic consultant at Birla Ayurveda, explains that according to Ayurveda, blockage in the course of the channels causes Avarana. Strained phlegm can be a source of blockage. This is the beginning of diabetes in adults. In contrast, wasting describes the wasting away of body tissues. This can lead to juvenile diabetes.
Ayurveda views digestion as an extremely important process.
"For the digestive system to function effectively the digestive fire known as Agni must be in good working order. If this digestive fire is weak (due to dosha imbalance or other factors) many problems can arise As a result, toxins accumulate, which can interfere with the body's regular functions. Additionally, it can impair immunity, making the body less able to fight diseases and infections," says Dr. Chaitali. he said.
Dr Chaitali further explained that diabetes often makes the symptoms of other conditions worse. People with diabetes may also experience additional health problems, such as heart or kidney problems. However, they could not experience symptoms due to diabetes. The reason for this is high blood sugar. There are many examples of people having a minor heart attack due to excessive blood sugar and not knowing about it. Thus, it is important to maintain control over blood sugar levels.
(Disclaimer: The information provided in the article, including treatment suggestions shared by doctors, is for general informational purposes only. It is not a substitute for professional medical advice, diagnosis or treatment. Always seek the advice of your physician or other qualified person regarding any medical condition. healthcare provider for any questions you may have regarding.)